Don't get left in the dark when it comes to the maintenance of your Emergency Lighting system. We maintain and service Emergency Lighting installations by conducting the following checks:
Bulb testing and replacement
Inspection of connections where accessible for signs of deterioration or damage
Visual inspection of light covers
Battery checks where necessary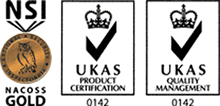 Exceeded my expectations. Very high standards of customer care and respect for carpets and furnishings.