Don't get left in the dark when it comes to the maintenance of your Emergency Lighting system. We maintain and service Emergency Lighting installations by conducting the following checks:
Bulb testing and replacement
Inspection of connections where accessible for signs of deterioration or damage
Visual inspection of light covers
Battery checks where necessary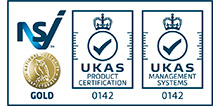 NSI Certificate | BAFE Certificate

We're delighted with the installation and in particular the quality and professionalism of work. The Engineer is a credit to your company and I would recommend your services without hesitation.