Keyholder Contact Update Form
This form allows you to send the instruction to update your keyholder information online. (Subject to checks)
Keyholders should be within 20 minutes travelling time of the premises.
Keyholders will be contacted in sequential order, ie. Contact 1 first, Contact 2 second etc.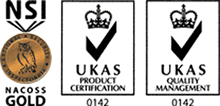 All the staff were extremely helpful and efficient. The staff went out off their way to help me to get the alarm installed within my tight timescale.