Keyholder Contact Update Form
This form allows you to send the instruction to update your keyholder information online. (Subject to checks)
Keyholders should be within 20 minutes travelling time of the premises.
Keyholders will be contacted in sequential order, ie. Contact 1 first, Contact 2 second etc.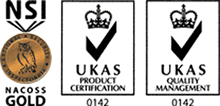 I doubt that anyone could be more courteous and professional in such a way as the Crimestop engineer - and his follow up phone call was right on schedule! A credit to your company.