Home Alarm System: Surveys
Crimestop Security consultants are highly experienced, familiar with the latest technological developments in alarm systems and fully conversant with Police and insurance company requirements. Following a survey of your home premises, one of our consultants will design an alarm system to meet your premises specific needs, giving maximum emphasis on achieving total security.
A detailed report and system specification will then be sent to you free of charge and without any obligation.
Home Alarm System: Installation
Our professionally trained engineers are of the highest integrity and have all been security screened to ensure total confidentiality.
All our home alarm systems conform to rigorous quality requirements and are installed to meet the relevant European standard. Crimestop is a recognised installer of the National Security Inspectorate and is accredited with NACOSS GOLD STANDARD for Intruder Alarms CCTV and ACCESS CONTROL
Home alarm systems are microprocessor operated with user-friendly controls. Provision is made for a variety of security facilities such as panic buttons, smoke detectors, movement detectors etc. Two rechargeable battery back-up systems are fitted as standard. Special devices are fitted to warn of any attempts to tamper with the control, detection, cabling and signalling equipment.
Cables are concealed wherever possible, or are physically protected.
When completed, the alarm system will be fully demonstrated to you, to ensure your complete satisfaction with its operation.
We will also provide you with a NACOSS Certificate of Compliance, confirming that the alarm system has been designed and installed to the highest industry standard.
Home Alarm System: Monitoring
More secure installations are fitted with a digital communicator: BT Redcare GSM or Dualcom. This will automatically report any disturbances to an independent alarm monitoring station, who have the authority to call out the Police.
Home Alarm System: After-sales Support and Maintenance
Once the home alarm system has been installed, the details are entered into our comprehensive maintenance programme. This provides for regular maintenance of your system together with a 24 hour emergency service utilising our mobile engineer's paging system. In the unlikely event of a failure of the system, we can provide an emergency response within 4 hours, so maintaining protection of your premises.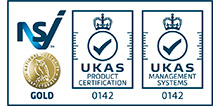 NSI Certificate | BAFE Certificate

Attention to detail shown from start to finish. Arrived on time, huge respect for carpets & decor (which was much appreciated), polite and obviously very experienced.