Business CCTV
Isn't it time you had a closer look at your business before someone else does?
We can supply you with tools to assist day-to-day operations, with the ability to have immediate visual access to the movement of people, visitors, staff, or to check stock, loading, and the operation of machinery.
As a completely independent security installer, Crimestop can match customer requirements with a worldwide range of CCTV products. We choose the best possible system in terms of quality, reliability and price whilst maintaining our friendly efficient service.
No two situations are the same, so our highly experienced sales engineers are best placed to make effective recommendations to increase business control and efficiency. We provide complete evidence packs to enable you to permanently record, for future reference, incidents or events that you may feel to be significant.
From single user compact observation systems to major security projects, Crimestop has the solution.
Are you in control of a...School, College, Hospital, Museum, Leisure Centre, Transportation Depot, Shopping Precinct, Park or Council Building?
Are you overseeing...Workers, School Children, Machinery, Priceless Artifacts or Sensitive Documents and Records?
CCTV, with its picture date, time verification evidence, 24 hours a day and strong deterrent effect, will save you time and money.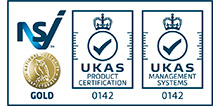 NSI Certificate | BAFE Certificate

The engineer extended the system, explaining everything to us and leaving the premises neat and tidy. Please send him for next years maintenance.