Business Access Systems
We supply access systems which are specifically designed for high security or sensitive controlled areas. They are used to control access to specific areas, such as computer and strong rooms, within Business sector buildings that have a high footfall of people.
The access systems allow management to solve time verification problems or restrict access using tiered card levels or coded functions.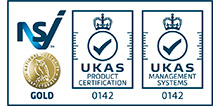 The office staff were really helpful and friendly. The engineers were helpful, friendly. The engineers checked that I knew what was happening and were very tidy all the way through the installation. I was very impressed.