Testimonials
"First class response to my call-out. Work was executed efficiently in a courteous and friendly way."
"A prompt and efficient service from my first calling in the Kenilworth shop through to installation of my system."
"The engineer extended the system, explaining everything to us and leaving the premises neat and tidy. Please send him for next years maintenance."
"Very impressed that despite the deep snow the engineer turned up. Excellent Service!"
"Worked efficiently and arrived promptly. Carried out work which avoided a second visit which would have been very difficult from my point of view."
"Polite, courteous, attention to detail; Congratulations to your company's selection/training criteria"
"We're delighted with the installation and in particular the quality and professionalism of work. The Engineer is a credit to your company and I would recommend your services without hesitation."
"I doubt that anyone could be more courteous and professional in such a way as the Crimestop engineer - and his follow up phone call was right on schedule! A credit to your company."
"Exceeded my expectations. Very high standards of customer care and respect for carpets and furnishings."
"All the staff were extremely helpful and efficient. The staff went out off their way to help me to get the alarm installed within my tight timescale."
"Attention to detail shown from start to finish. Arrived on time, huge respect for carpets & decor (which was much appreciated), polite and obviously very experienced."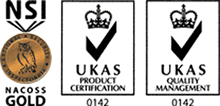 The office staff were really helpful and friendly. The engineers were helpful, friendly. The engineers checked that I knew what was happening and were very tidy all the way through the installation. I was very impressed.