Business Fire Detection Systems
Our comprehensive range of Fire Detection and Alarm Products provides for a wide variety of installations. From a simple entry level system for smaller business premises right through to intelligent networked ones for large corporations and public sector buildings, all our products are manufactured by market leading companies and combine quality and performance with great value for money.
Of course, Crimestop Security and Fire Limited are also able to provide maintenance and monitoring services for your existing Fire Detection installation. Give us a call or email us today to arrange your free site survey.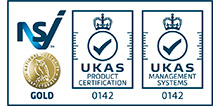 Exceeded my expectations. Very high standards of customer care and respect for carpets and furnishings.